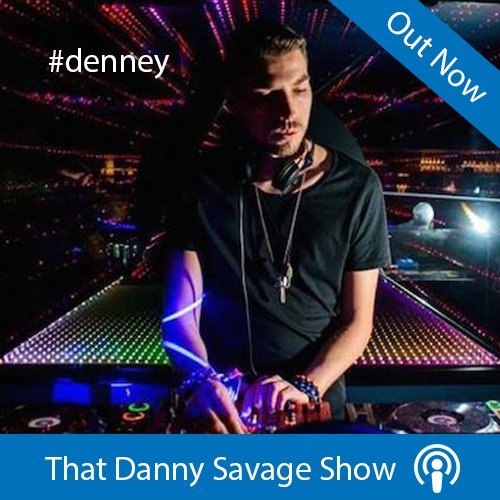 That Danny Savage Show – Introducing Denney (DJ & Producer) – What It Takes To Reach The Top
Fast receiving global recognition Danny's latest podcast series continues to deliver some of the best insight directly into the centre of the music industry. With this podcast Danny Savage settles into the hot seat asking Denney what drives his dedication and direction as an internationally recognised artist and reflects back on his past. Featuring on a host of heavyweight labels Viva, Hot Creations, Crosstown Rebels, Pokerflat, 20:20 Vision and starting life in the office at one of the worlds iconic clubs Back to Basics (considered the longest running weekly night in clubland).
Denney provides some exclusive feedback on the current music scene and the transition it took to get to his present  position citing that "he spent educating himself on music, networking and countless hours in the studio before beginning to reap the rewards of his hard work." Tune-in to gain a greater understanding of what a modern music identity needs to do to achieve industry success.

Looking into Denney's humble beginning s as a promoter for night called Future before moving up the ranks and into other city's this really set Denney firmly on his way into understanding the scene from the inside out, whilst allowing him to meet many of the most prominent characters. He openly discusses the politics and personal impacts of the lifestyle and also hosting top nights featuring the likes of Carl cox, Sasha and Fatboy Slim.
Denney first started DJing at age 13 and progressed into producing around 19, he has been touring consistently from 2011 and his last year's highlights included an American profile residency where he also DJed alongside Roger Sanchez, he loved performing for the exciting Elrow in Ibiza at Amnesia and their Barcelona home, Eastern Electrics Festival, Gottwood and the final Secret Garden Festival.
Danny and Denney discuss the current and historical UK club territory and the city's they feel impacted the most, name checking many legendary nights and their own Leeds connection. They then go on to share the strength of connections and the networking opportunities available if you immerse yourself into the scene, noting the friendships struck often lead into great label signings and suggesting how best to approach DJs and people you admire during the night or at the after-partys.
They are very open about the effects of a relentless lifestyle and cite Ben Pearce's  open sharing on Why We DJ- Slaves To the Rhythm https://www.youtube.com/watch?v=mFmfOSt2uCE&feature=youtu.be which has spearheaded many more people in the industry being open with advice, support and addressing their own issues. Denney discusses the importance of sleep and diet and notes he doesn't even drink on tour to keep the balance admitting he also has suffered alongside much of the music and creative scene.
The final tips that Denney leaves us with are essential in a modern DJs arsenal informing us of the importance and power of social media and great video that can leverage your reach. He also suggests targeting specific audiences for your growth and reflects on his early days of producing up to 14-15 hour days honing his craft sharing that determination and dedication always govern everything else. He originally worked in call centers and retail before finding his love of music was what really drove him forward, aligning with other producers and even engineering for Buckley at the start. Denney shares the hot tip about mailing DJs with private soundcloud links in preference to zip files as it's easier to access and instant (he also does the same).
A great podcast that's informative and really gets behind the cogs of the music industry.
 Get to know more about Denney here and also check out his music:
Tune in to the rest of the That Danny Savage Show podcasts and receive unique insights from DJs, Labels, Promoters and many from behind the scene including influencers, managers, marketers and more. That Danny Savage Show is available to listen, download, comment and share:
ITunes
https://itunes.apple.com/us/podcast/that-danny-savage-show/id1334078981?mt=2
Soundcloud
https://soundcloud.com/thatdannysavage
Please join the DJ Growth Lab Community a facebook group dedicated to giving the skills and information to people wanting to break into the music industry.
https://www.facebook.com/groups/djgrowthlab/
https://www.facebook.com/ThatDannySavage/
All enquiries and feedback to:
Press / Media:
Please support our friends and partners at:
Last Night A DJ Saved My Life Foundation – A charity creating opportunities & fundraising initiatives to enable the dance music industry to help children in crisis.
www.lastnightadjsavedmylife.com
Association for Electronic Music (AFEM) – A not-for-profit trade association created to represent the common interests of those companies and individuals whose business is Electronic Music and to advocate best practice for the genre.
Providing the best news about the electronic music industry including music reviews, music news, clubs, events, Ibiza club news, DJs, labels and more. Covering the hottest Electronic music events and festivals from house to techno, disco, deep house, tech house and minimal.
The Everyday Agency – A creative marketing agency that provides Digital Marketing, Graphic Design, Web Design, PR, Social Media Strategy, SEO to the international music industry.